150ml Protection Spell Mix - Palo Santo & Selenite
Sale price

$15.08

Regular price

$16.76

Unit price

per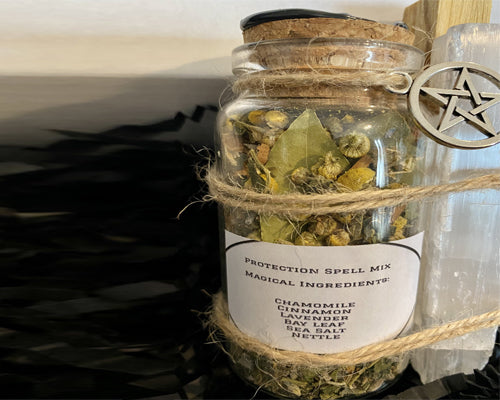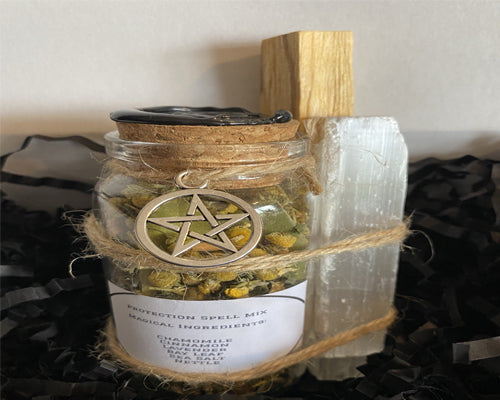 This is a Large bottle of Protection Spell Mix.
It is 150ml and contains the best Magical ingredients for successful protection spells. 
You can use this mix to add to spell bottles, grind into incense, scatter around candles, boil into a protection spray, make anointing Oil, grind and add to spell candles and however else you like to use materials in your spell work. 
The bottle contains:
Whole Bay Leaves
Broken Cinnamon Stick
Lavender
Chamomile
Sea Salt
Nettle
Attached with twine is a Selenite Crystal & Palo Santo stick.
Smudge Sticks/Wood Sticks: Can be used to cleanse negative energies for a person, place or space.

Sustainability
These Palo Santo sticks have been traditionally, legally and ethically gathered and harvested. Traditionally a Palo Santo tree lasts for around 80 years and the wood is only used once the tree has been dead for 4-10 years (when the tree is alive, the scent is completely devoid in the wood). It is only once the wood has been untouched where it has grown that it will then create its exceptional properties. All trees that have been used are harvested through a sustainable and natural process.
 Selenite is Self Cleansing and self Charged
Charge other crystal by placing them on top of a Selenite Slab.