Awakening Moon Goddess Amethyst and Onyx Necklace 108 Mala Beads | Prayer Beads | Meditation | Worry Beads | Rosaries | Crystal | Wicca
Sale price

$33.69

Regular price

$37.44

Unit price

per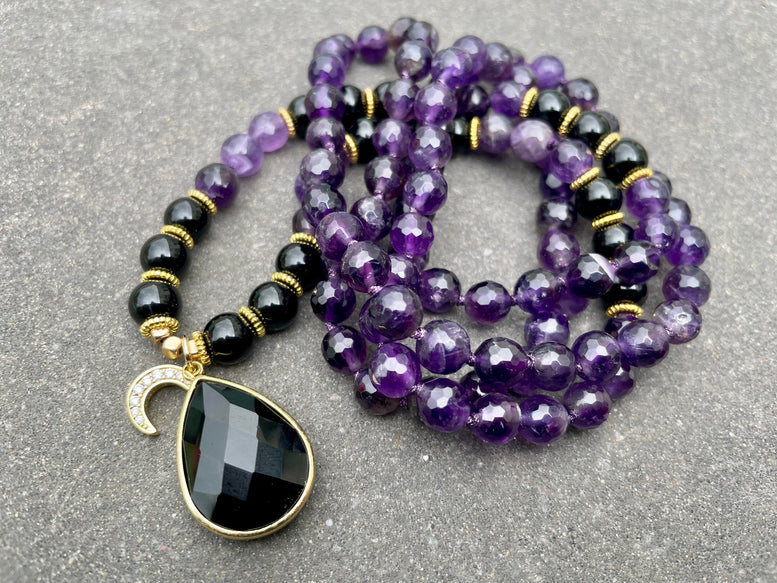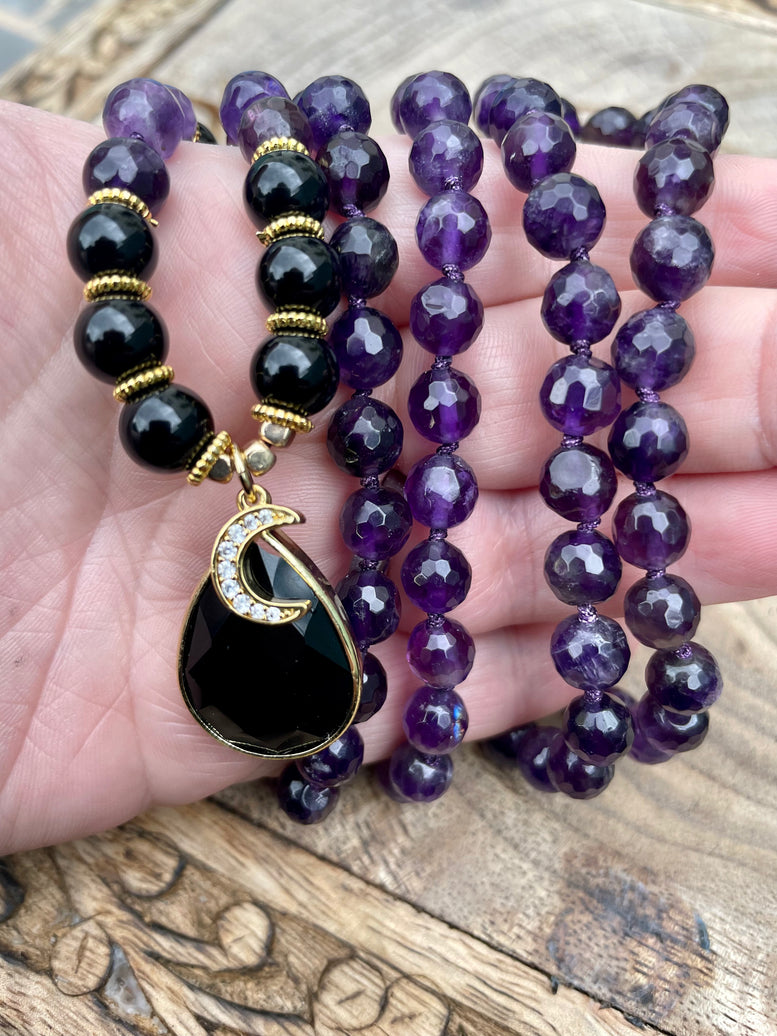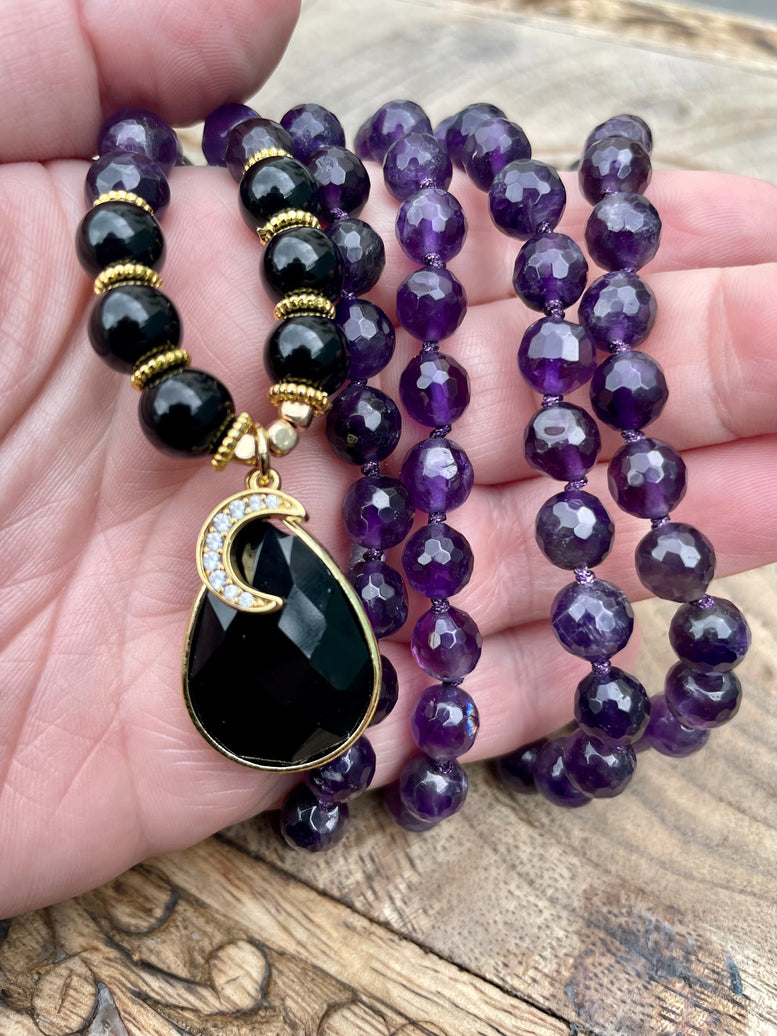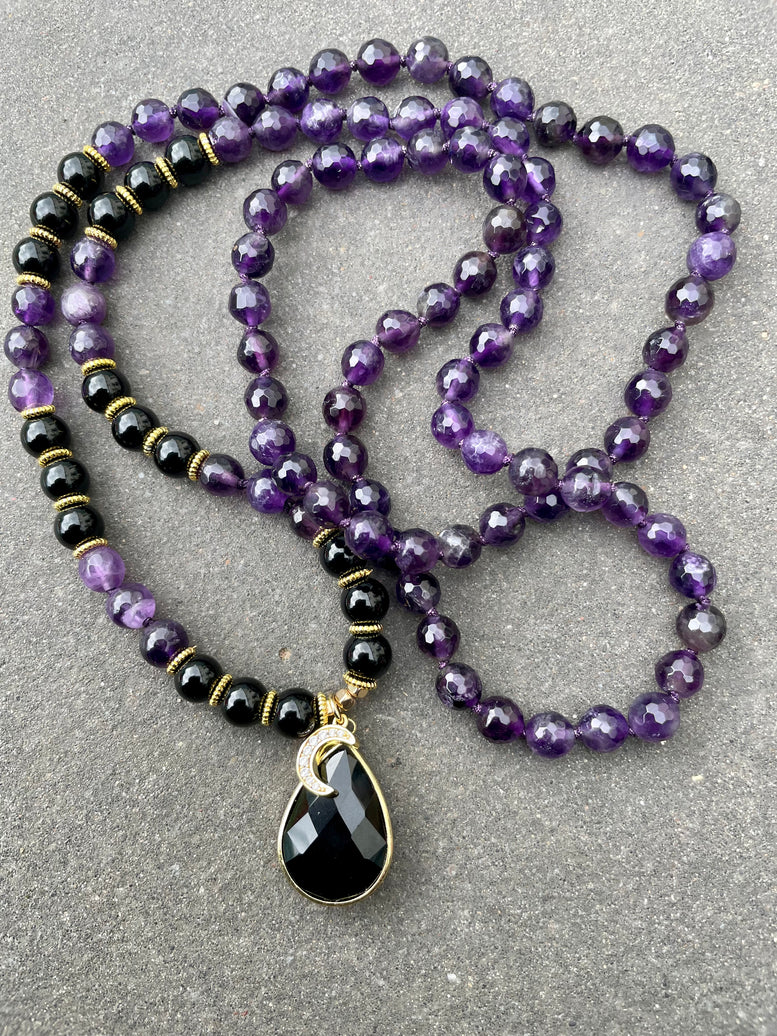 Absolutely Beautiful Awakening Moon Goddess 40" Mala Beads made using Natural Amethyst & Onyx. Each stone size is approx 8mm, Gold Plated.
Mala Beads – a string of 108 beads used for meditation or intention setting.
Mala beads serve as a tactile reminder during meditation and chanting. In many Eastern traditions chanting and prayer is done in certain numbers. By running the beads through your fingers as you chant you're able to keep track of how many times you have chanted or prayer to a specific deity.
Chakras - When it comes to Chakras, It has been said there there are 108 energy lines connecting to the heart, with one of them believed to be the path to self realisation.
How To Use Your Mala During Meditation
1. Clarify the intention of your practice and choose your mantra or affirmation
2. Find a comfortable space and sit quietly.
3. Close your eyes and spend a few moments observing your breath.
4. Begin to breathe deeply and bring your focus and attention onto your mantra or affirmation.
5. Hang the first mala bead gently on the middle or ring finger of your hand.
6. Place your thumb on the guru bead and begin reciting your mantra.
7. At the end of the mantra push the mala bead away with your thumb and move onto the next bead for another round.
8. Continue until you reach a count on 7, 21, 27, or 108.
If you wish to do another round of mantras or affirmations, do not skip over the guru bead. Instead, turn the mala around and move in the opposite direction.
Amethyst - At a base level, Amethyst is renowned for bringing a sense of calm and clarity to our chaotic world. Those who keep Amethyst close will find that they feel comforted, grounded and soothed in a truly uplifting way. Because Amethyst centers the emotions, it can be a beautiful aide in recovery for those suffering from the overwhelming emotions that come with grief, loss and all shades of sadness. Thanks to its divine spirituality, it's a great stone for reminding people not to fear the unknown
Onyx - Often used as an amulet against negative energy, Black Onyx is a master of good fortune. All black stones have solid healing properties particularly when it comes to protection and shielding you against anything that could bring harm. Onyx is ripe with powerful vibrations and can bring shades of strength and willpower to the wearer. Not only will Black Onyx throw up a forcefield shield around you, but it also activates certain chakras in the body to bring solid standing, creative focus, and illuminate new pathways to wisdom. Black Onyx grounds you beautifully in body, mind, and soul.