Carnelian Natural Point | Gemstones | Natural Gemstone | Reiki | Energy | Polished | Crystal Point | Crystal Bullet | Jewels
Sale price

$2.21

Regular price

$2.45

Unit price

per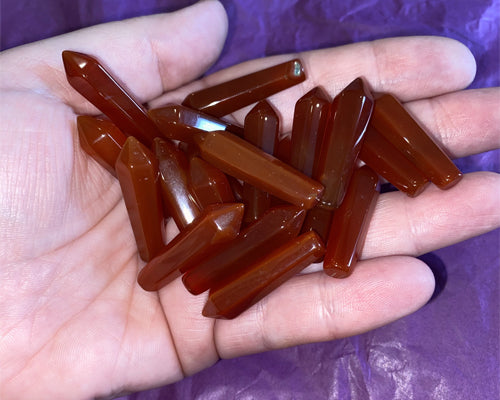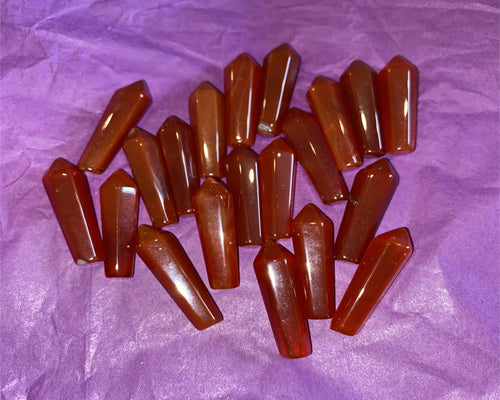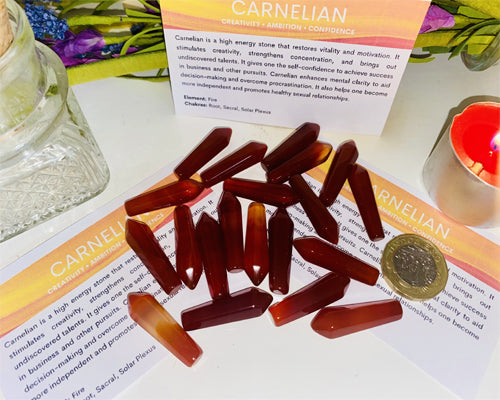 Beautiful Natural Carnelian Polished Crystal Points.
You will receive 1 point from the picture.
Ways to use a Crystal Point:
🌺 As an air purifier for your space
🌺 To send healing energy to someone
🌺 As the centre point of a crystal grid
🌺 For meditation and stress relief
🌺 For setting focused intentions
For those who need a few more flames in their fire, Carnelian is always keen to bring out your power. The Carnelian crystal is all about gifting a glut of vitality to those who are feeling a little lost and sluggish. This bright burst of energy will get you back on your feet and feeling the drive to go forth and conquer, especially when it comes to creative projects. It isn't called The Artist's Stone for no reason, Carnelian invites you to write, paint, dance and sing and it does so, by stimulating warmth and heat, loosening the limbs, letting energy flow, and encouraging you to embrace your inner child and say a sweet yes to spontaneity.
When you let our creative juices go wild, this gives you a whole new lease of life and keeps you feeling motivated and confident now that you have been able to step out of the shadows. If you have been holding on tight to anger or reigning yourself in, this is the time to let it all go. New fires are burning so leave those bitter embers well alone. Forever and a day, Carnelian was considered to be a stone that helped timid speakers to raise their vocals. This is where it also earns its name as The Singers Stone. Even if you cannot hold a note, bringing Carnelian into your life will ensure that your voice always rings true and you never have to bite your tongue again. When we are able to lift up our voice, the soul follows.
All of my crystals are charged under moonlight, Cleansed with incense before leaving and charged with positivity.