Hecate Goddess of Magic Figurine Triple Goddess Ornament 21cm | Hekate | Hecate | Deity | Goddess | Shrine | Altar
Sale price

$89.56

Regular price

$99.52

Unit price

per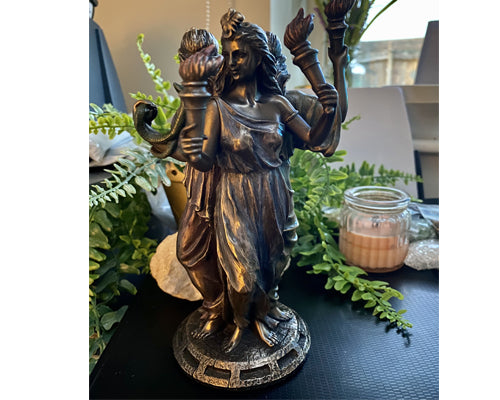 21cm
Beautifully crafted, bronze Triple Goddess figurine.
Cast in the finest resin.
Painstakingly hand-painted.
Bronzed finish.
Hecate, goddess accepted at an early date into Greek religion but probably derived from the Carians in southwest Asia Minor. In Hesiod she is the daughter of the Titan Perses and the nymph Asteria and has power over heaven, earth, and sea; hence, she bestows wealth and all the blessings of daily life.
Hecate was the chief goddess presiding over magic and spells. She witnessed the abduction of Demeter's daughter Persephone to the underworld and, torch in hand, assisted in the search for her. Thus, pillars called Hecataea stood at crossroads and doorways, perhaps to keep away evil spirits. Hecate was represented as single-formed, clad in a long robe, holding burning torches; in later representations she was triple-formed, with three bodies standing back-to-back, probably so that she could look in all directions at once from the crossroads. She was accompanied by packs of barking dogs.