Huge Witch Materials Spell Casting kit
Sale price

$100.12

Regular price

$111.25

Unit price

per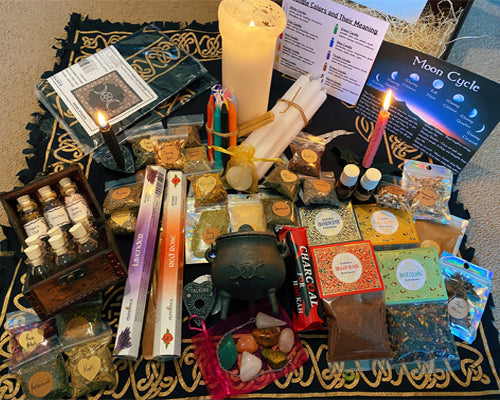 This set contains lots of materials to aid your spell work and witchcraft journey. It contains all of the essentials you need to begin to experiment with what works for you.
It contains a mini chest full of empty spell bottles.

20 Herbs and Flowers
10 Spell Candles
4 Altar Candles
1 Tea-Light
1 x 7cm Cast Iron Cauldron
1 pack of 10 charcoal disks
4 x packs of incense resin
1 Palo Santo Wood Stick
1 Small Chest
6 Empty Spell Bottles
3 Crystal Chips Bottles
4 large Tumblestones
1 Pendulum
1 Talking Board candle holder
2 x Essential Oils
2 x boxes of incense sticks
1 incense holder
1 Altar Cloth
1 herbs and their meanings card that has 93 herbs
1 moon phases card
1 candle colour meaning card & Blank journaling sheets 
*Due to the weight, it will increase the shipping cost*
Communicated really well about the shipping! Really good quality products!!
Fantastic kit
The kit had so many items and was really worth the money. It was really well packaged and a joy to open. I am really happy with it