Lunar Resonance Moon Goddess Amazonite & Moonstone Necklace 108 Mala Beads | Prayer Beads | Meditation | Worry Beads | Rosaries | Crystal
Sale price

$33.62

Regular price

$37.36

Unit price

per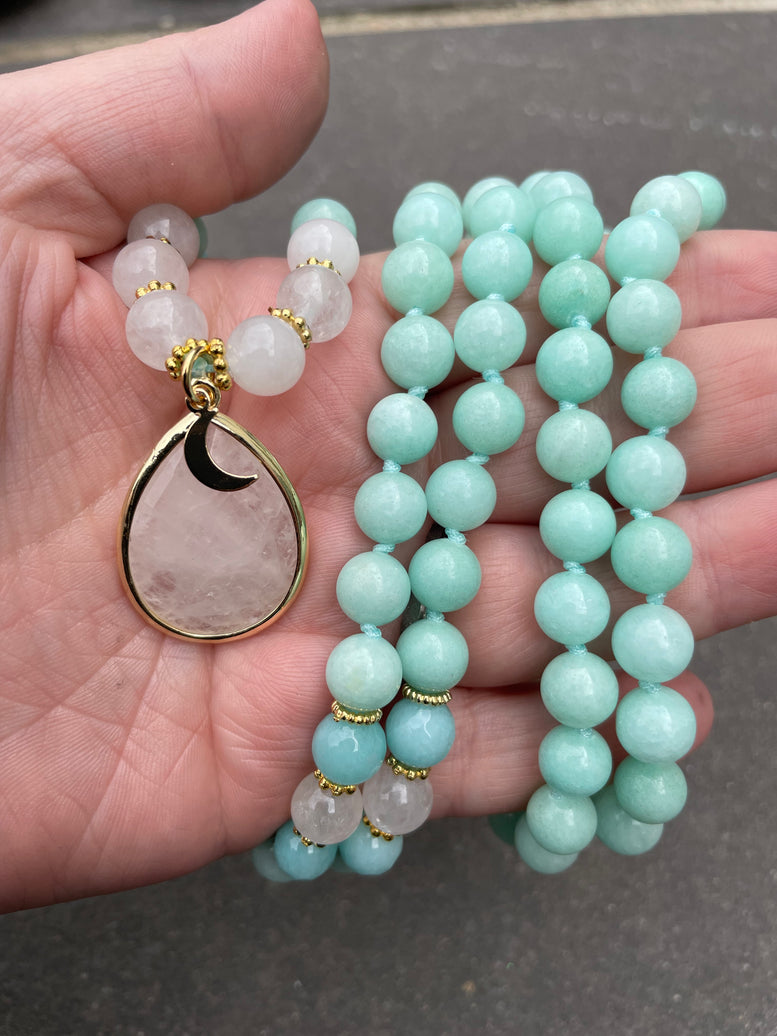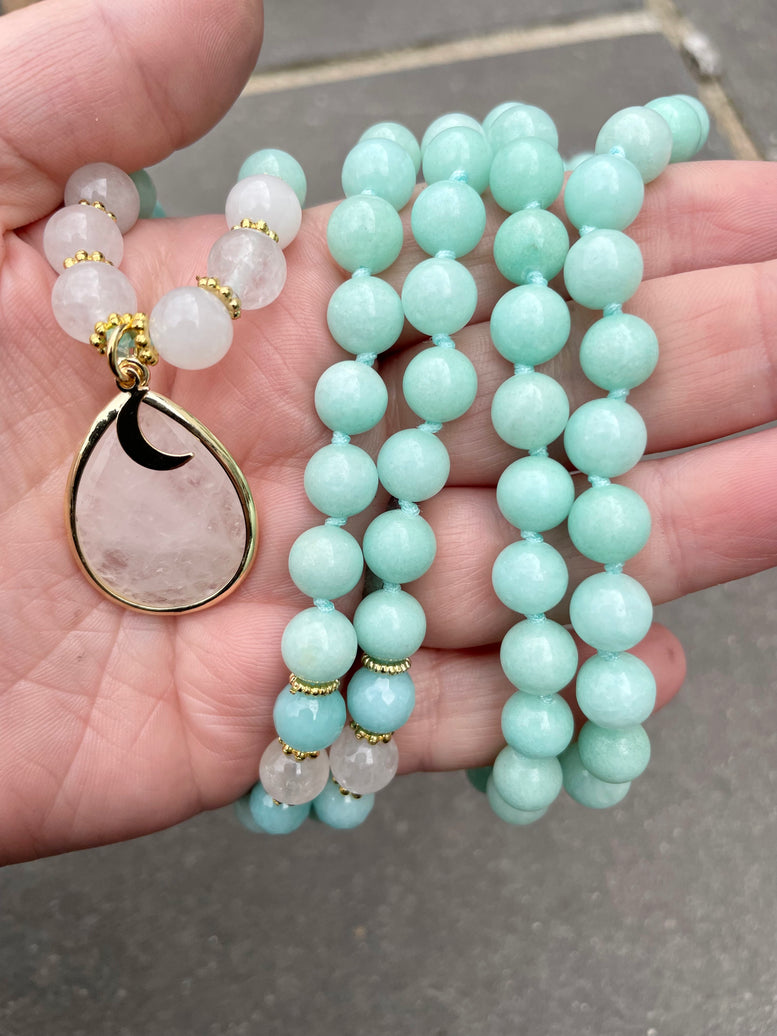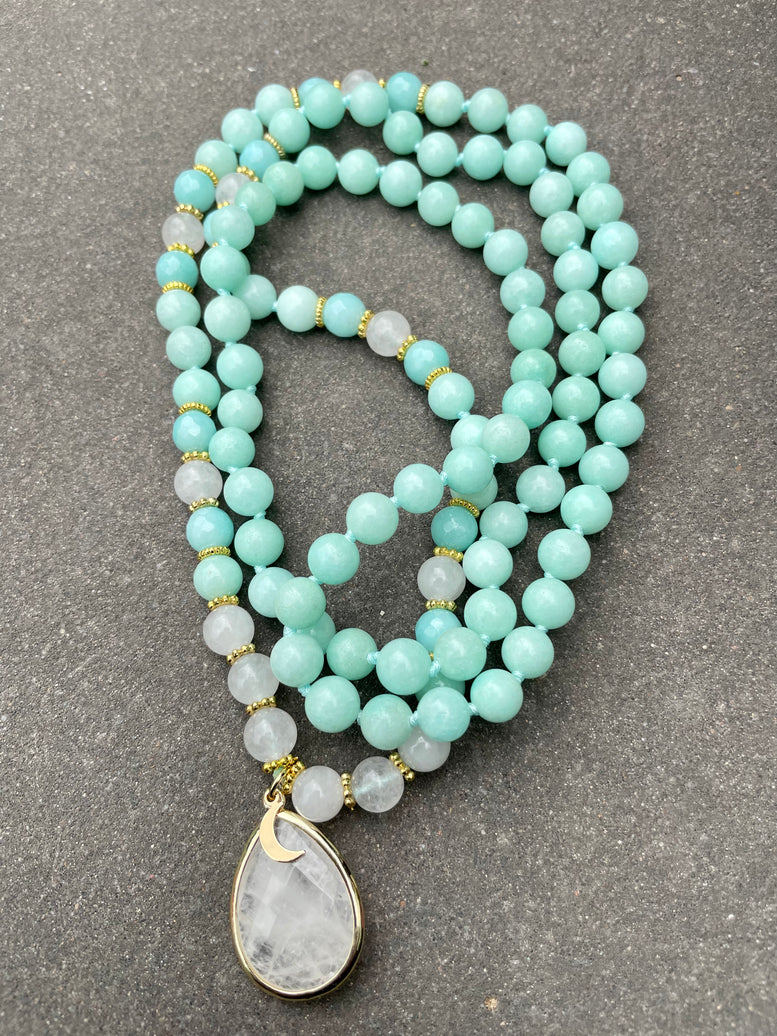 Absolutely Beautiful Lunar Resonance Moon Goddess 40" Mala Beads made using Natural Amazonite & Moonstone. Each stone size is approx 8mm, Gold Plated.
Mala Beads – a string of 108 beads used for meditation or intention setting.
Mala beads serve as a tactile reminder during meditation and chanting. In many Eastern traditions chanting and prayer is done in certain numbers. By running the beads through your fingers as you chant you're able to keep track of how many times you have chanted or prayer to a specific deity.
Chakras - When it comes to Chakras, It has been said there there are 108 energy lines connecting to the heart, with one of them believed to be the path to self realisation.
How To Use Your Mala During Meditation
1. Clarify the intention of your practice and choose your mantra or affirmation
2. Find a comfortable space and sit quietly.
3. Close your eyes and spend a few moments observing your breath.
4. Begin to breathe deeply and bring your focus and attention onto your mantra or affirmation.
5. Hang the first mala bead gently on the middle or ring finger of your hand.
6. Place your thumb on the guru bead and begin reciting your mantra.
7. At the end of the mantra push the mala bead away with your thumb and move onto the next bead for another round.
8. Continue until you reach a count on 7, 21, 27, or 108.
If you wish to do another round of mantras or affirmations, do not skip over the guru bead. Instead, turn the mala around and move in the opposite direction.
Amazonite - If you find your monkey mind sometimes acts like shattered glass with fragmented thoughts going here, there and everywhere, then Amazonite can be the most amazing gemstone for weaving together all those frayed emotional threads. Soothing anxious dispositions and self-destructive thoughts is what Amazonite does best. It's also a brilliant gemstone to have on hand when you need to pull your self-esteem up by the bootstraps. Connected with the feminine, the Amazonite crystal works directly against habits of self-neglect, inviting you to always put yourself first.
For those who struggle with past trauma, Amazonite can also bring its healing energy to help you step forward. By helping the mind filter out stress and anxiety and learning to let go of that which is not serving us any longer, it helps to patch up old wounds and make things seem much more manageable by breaking down big problems into bite-sized digestible pieces.
All the beautiful emotional words that link with Amazonite are there to be applied first to oneself. Sincerity, love, honesty, integrity, eloquence and clarity – one we can apply these lush labels to how we interact with ourselves, we are placed in an amazing space to manifest our path of magic in the world. Amazonite is also connected to the heart chakra, the place that streams with light and makes way for love to be given and received. When the heart chakra is blocked it can be a struggle to trust anyone and to open yourself up to let in the kindness that the world has to give, which can have a knock-on effect for your own sense of self-worth and cause destructive patterns to show up time and time again.
Moonstone - Like the great glowing anchor of the sky, the magic of the Moonstone enchants us with its bright feminine energy, its tide-like tug, and its promise of cyclical change. For centuries, the moon has been a symbol of the goddess spirit, hanging like an orb above our heads, sometimes a slip of light, other times as fat and full as harvest. The Moonstone captures all this magic and more.
If you've ever felt like you were losing your mind on a full moon, then this is just a hint as to how much the Moon affects our emotional balance. The Moonstone is here to shine a light through the darkness and to elevate all those feelings. When you take a symbol of the moon and keep it on your person or in your life, it will intuitively link you to the universe and can bring all those wild hormones into check, ensuring that you are moving in flow with the world outside your window. The Moonstone is also known as the stone of new beginnings. Everything passes, everything changes and the Moonstone reminds you how important it is to embrace the cyclical nature of the seasons and not to fear the turning of the page and the potential of new chapters. Rather than sink into overwhelm, the Moonstone helps you to process and accept through the harmony of its natural healing powers.