Natural Aura Rose Quartz Points/Towers/Wands | Crystals | Reiki | Chakra | Crystal Healing
Sale price

$14.40

Regular price

$16.00

Unit price

per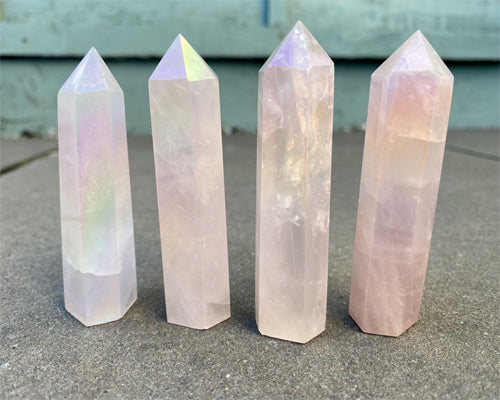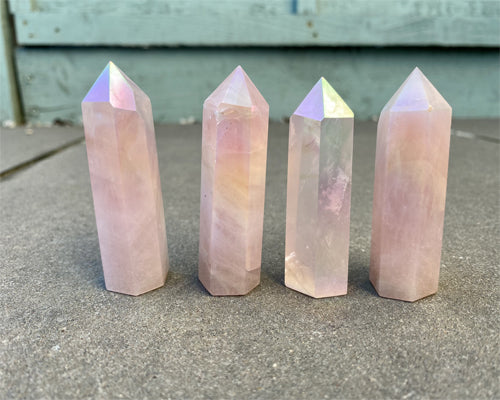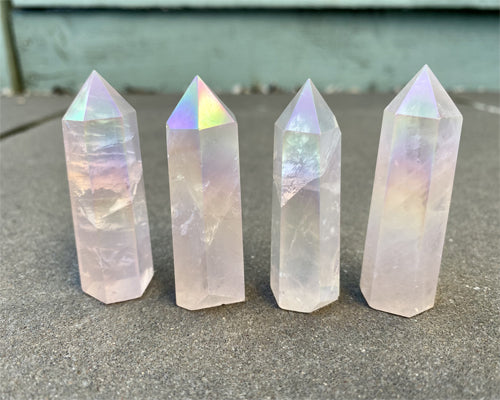 Aura Rose Quartz Towers
Large - 70-80mm
Medium - 60-70mm
Small - 50-60mm
Aura Rose Quartz carries strong love energies. Carry it to enhance your love for romance, friendships and life itself. When you connect with Aura Rose Quartz, you feel infused with the magic of love. This stone has all the natural Rose Quartz properties which are magnified by the metals used to create its flashy rainbow, pink sheen. By heat treating Rose Quartz with platinum, the crystal is transformed with a full spectrum of iridescent hues. The platinum brings its own grounding and amplifying properties that enhance not only the appearance of the crystal, but also its energy.
- Nourishes you with self-love, love for life, a sense of romance and increased compassion for others.
- Draws love to you and enables you to love more fully in return
- Cleanses your aura with loving energy
- it eases pain, transforms energies in and around the home, calms nerves, helps one parent with more grace, heals the heart space, allows for flowing and easy communication, brings peace to the bearer, and more.
- Facilitates communication and connection with Higher Realms, with our guides, and with our past lives
Rose Quartz: is known as the love stone. It helps the user feel a strong sense of self-worth, therefore being worth love. Rose quartz is the stone of universal love. It is also the stone of love in marriage. When worn in jewelry the wearer feels a sense of self-worth. Rose Quartz opens the heart to compassion for self and for others, and raises self-esteem. Rose Quartz eases guilt and balances emotions, lowering stress and bringing peace. Use Rose Quartz to enhance positive self-affirmations.
The soothing energy of Rose Quartz fosters empathy, reconciliation, and forgiveness of others. Lowering stress and tension in the heart, Rose Quartz clears out anger, jealousy, and resentment of others, and allows healing of heart issues and dis-ease associated with holding on to such negative emotions. Rose Quartz is a calming and reassuring crystal. It strengthens empathy, sensitivity, and aids in the acceptance of necessary change. It is also an excellent stone for comforting grief. So it is powerful to help you to let go of tension, resentment, and is one of the ways to help you let go of stress.
You will receive 1 of the 4 points in the picture