Pink Agate Natural Point | Gemstones | Natural Gemstone | Reiki | Energy | Polished | Crystal Point | Crystal Bullet | Jewels
Sale price

$3.31

Regular price

$3.68

Unit price

per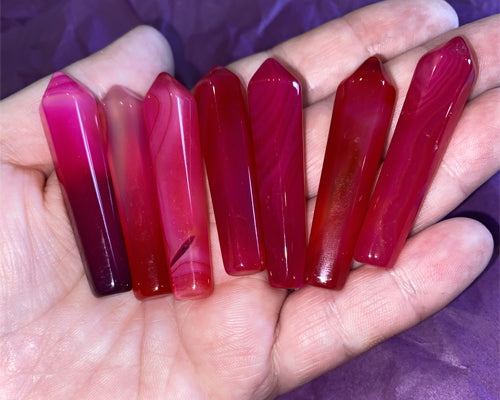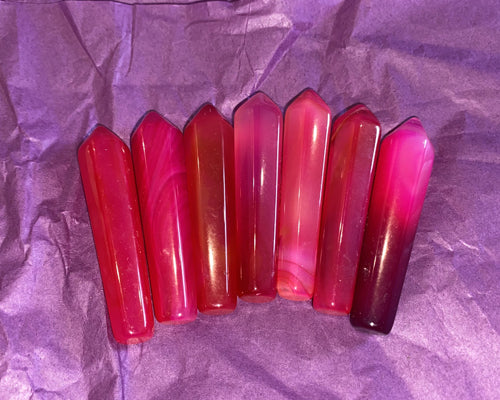 Beautiful Natural Pink Agate Polished Crystal Points.
You will receive 1 point from the picture.
Ways to use a Crystal Point:
🌺 As an air purifier for your space
🌺 To send healing energy to someone
🌺 As the centre point of a crystal grid
🌺 For meditation and stress relief
🌺 For setting focused intentions
Pink agate is great at helping you balance your emotions hence increasing your emotional maturity. Its stone's color is a reminder of your Divine Mother within who not only hears but also knows the truth and unconditionally accepts you.
Several factors contribute to the mystical attributes of this stone. These crystals are magical when it comes to achieving logical, sensual, and health balance.
This stone can enhance concentration, analytical abilities, awareness, insight, and mental function. It aids one in stabilizing the aura and overcome heart bitterness.
Pink agate is also popular for its soothing and calming prowess. It not only helps you to get rid of anxiety but also inculcates positive vibe, power, and bravery in such a way that it brings back or enhancements self-esteem.
Furthermore, pink agate is associated with parental love which can go miles in strengthening the relationship between a child and parent. Generally, it improves love relationships.
With the stone, red's strong passion is mixed with feminine and subtle facets. The ensuing hue offers a spark of resolve, assurance, and kindness.
Its color is handy at realizing beliefs and misconceptions that are not important. In most instances, ladies utilize it when reflecting.
Pink energetics vary as the quantity of red and white blend. Therefore, it is popular as an excellent neutralizer. The stone is capable of soothing negative energies like anger. It is also able to transform a defensive mind state into a calming and peaceful one.