Love/Self-Love Tea-light Spell Candle Set of 4
Sale price

$5.58

Regular price

$6.20

Unit price

per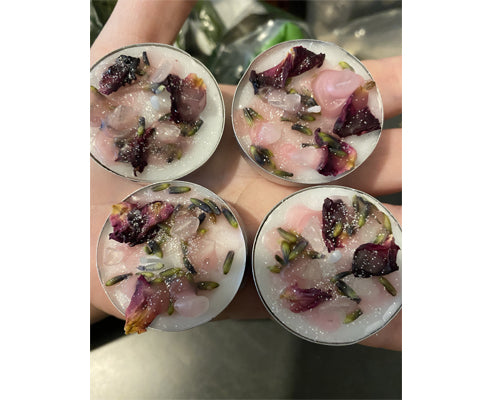 4 Love/Self-Love Tea-Light Candles.
Made with the best Self-Love Ingredients and lots of Loving Energy! The candles contain Rose Quartz Crystals. 
The candles are charged with intention of Love and Self-Love. 
After lighting the candle, it turns into a beautiful cauldron of manifestation, sending your intention to the universe. When lighting the wick for the first time, please take a moment to visualise your wishes.
After the candle burns, the crystals can be cleaned of wax residue and carried with, so you can continue to benefit from it's properties.
Our candles are handmade, so each of them may be slightly different.
Please use care and precautions when using candles. Burn at your own risk. Please do not leave candles burning unattended. It is recommended to place a lit candle on a heat resistant coaster/surface to prevent any possibility of heat damage. Never move candle while burning. Candles are dressed with herbs which can catch fir
Amazing Value
I ordered the self love tea-light candles and a set off herbs,the amount off each herb you get in each pack is awesome and definitely worth the money I paid,the candles are just the perfect size and that gorgeous looking you won't want to use them and delivery time was speedy,will definitely be buying from here again and again 🤩